If you're anything like me, you've been spotting the bajillion amazing ideas for the Christmas Season on Pinterest, and instead of feeling inspired, you're saying to yourself, "Oh crap. Was I supposed to do that? HOW am I supposed to do that?"
I have 4 kids now. Did I mention that? Granted, things are a bit harder now than they will be later on, as we're all getting used to each other and developing a rhythm of sorts. Big families usually have a lot of time to work this stuff out, but having foster kids placed in your home means that everything just drops in your lap out of nowhere.
Don't get me wrong, this Christmas season is one of the more special for us. We FINALLY have our own little house to decorate and to call our own. God has blessed us with enough room to give these two boys a safe and happy place to call home during the holidays– one of the saddest times of the year for impoverished kids. They have been over the moon about having stockings and decorating a tree with us, so thirsty for the peace and joy that the holidays bring.
But I don't have a lot of time. Haha. Ahahaha. Hahaha. Understatement of the year.
So I am trying to prioritize, cutting down on some of the more ambitious holiday season crafts that a part of me is itching to attempt.
An Advent Calendar is one of those things I'm not willing to compromise on, however. The anticipation of Christmas is half the fun (read this excellent article), and an Advent Calendar is the perfect reminder for little kids who need something tangible. Opening something every day takes a concept and turns into a reality.
I knew I definitely wanted a calendar with candy in it, because I'm all about short term anticipation as well 🙂 I grew up with one of those little calendars with the little doors, hiding a gourmet piece of chocolate behind it. It's one of my favorite Christmas memories!
The only problem? One piece of candy, to share between 4 young boys? Not gonna happen. I also wanted one with the actual Christmas story contained within it. I've seen cute calendars with activities for each day of the advent season, but adding extra craftiness onto my plate? Every single day? Cue Panic Attack.
I thought about purchasing one off of Etsy, but I kinda waited until the last minute, and we have a budget to uphold.
One with candles? Fire + boys= Panic Attack (seeing the pattern here?)
So, while our Advent Calendar isn't the cutest or smartest kid on the block, it gets the job done. When we opened today's up over dinner tonight, the boys were SO excited. We got to read the Christmas story out loud, then reach into the bag and pick out a piece of candy.
The best part? This was my brilliant idea for ever-so-cleverly repurposing ALL of Gregory's Halloween candy. He's eaten around 3 pieces total since Halloween, and I can't eat any of it without getting super sick, so it's just been sitting there. I almost threw it away, but decided that with a few other mouths to help, we could finish it off in a few days.
Anyone with a printer can put this together in 10 minutes FLAT. I printed off Luke 2 and Matthew 2 from an online bible (don't make yourself type it out, just…please…don't), and cut it into 24 strips. I bought 24 tiny gift bags from Big Lots for $8, and bought the clothespins from the dollar store for $1! Voila!
Also, I'm linking up with My So Called Chaos today, listing my goals from November and also for December: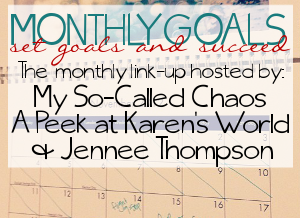 November Recap:
Host Thanksgiving Successfully– Success!
Guest Post Swap– Success!
Reach 100 followers– Success!
Assemble bunkbeds and buy furniture for foster kids– Success! 
Get new mattresses for foster kids– FAIL, but they've been ordered
Host Piano Recital– Success!
Do more crafts with Gregory– FAIL
Workout 2-3x/week– Depends on which week you look at!
Organize the mess of papers that is ruining my life– FAIL
December:
Decorate the house for Christmas– (Almost Done)
Keep all Christmas gifts under $200
Do Christmassy things with the family (like Vine Street, caroling, cookies, etc.)
Go on a trip with Jesse
Make the perfect loaf of bread using bean or almond flour
Download all my iPhone pics into Dropbox!
Does anyone else have any cute and easy ideas for decorating this holiday season! Email me with pics and I'd love to feature you!
Related posts